A Life Unpacked
After months of planning and weeks of packing, you've arrived. But what happens next? We talk to ZIS families, old and new, about those evocative first days.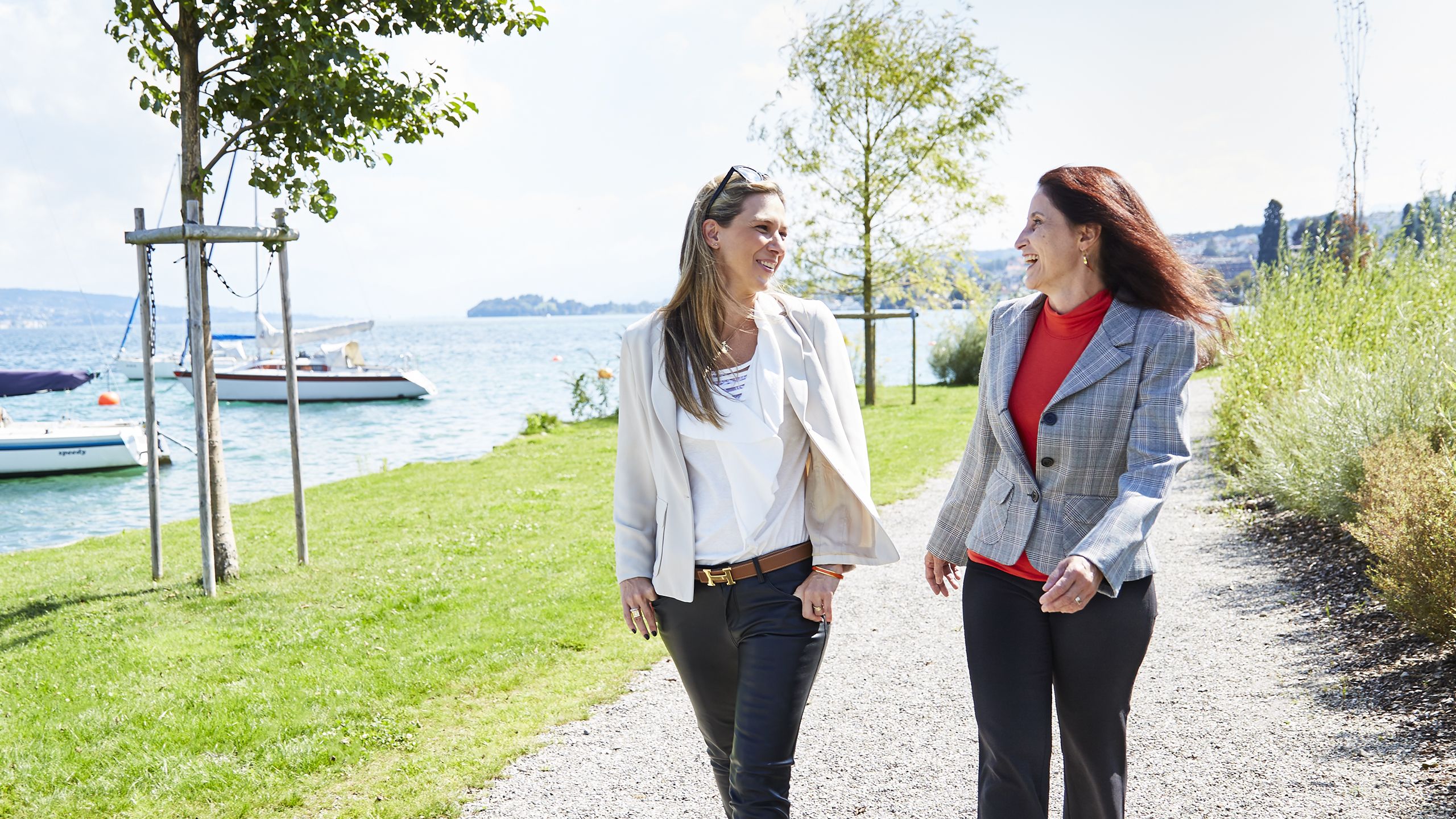 Raquel Becker (above, mother of Gabriel, Grade 1) and Wanise Turolla (mother of Isabella, Grade 8) are the Parents' Association Brazil nationality representatives and meet regularly for walks by the lake. "It's great to connect with people from your own background to share things with," they say. "But we found everybody is ready to help."
Everyone remembers their first week in Switzerland. The challenge of packing is replaced with the even greater chaos of unpacking. The proposed shopping trip for 'a few essentials' turns into a whole afternoon of mild panic and confusion. The novelty of an extensive public transport system enables you to get lost – in four languages.
Over time, the newness of it all recedes, until one morning you wake up and realise that your children routinely move between languages, that your family's social life seems to revolve around trips to the slopes and that you only ever get the fondue set out for visitors. You are at home. But how did you get here? For most families, it is the parent at home who carries most of the load: as family fixer, organiser-in-chief and maker of a new home. And in that first week, it is often the practical details that prove the most overwhelming. "Two days before arriving, we'd been on the beach in 41 degree heat," says Australian Renae Raba (current parent). "And here it was heavy snow. The kids had never seen it before – everything was white. We were scrambling for snow boots and pants and had to ask our neighbours where to go. Food was difficult too – I was trying to recreate dishes from home and it wasn't quite working. And driving was a big adjustment. I got beeped for going too slowly, I gave way to everyone at roundabouts, I put on windscreen wipers instead of indicators, I didn't understand the road signs."
And in the middle of it all – from the oven you can't turn on to the official looking letter you can't understand – you have to get the children settled at school, as Phil Chisholm (current parent) well remembers. When Phil and his wife, Tania, told their son, Lucas, then seven, they were leaving Denmark, Lucas was understandably nervous – and yet it was school that made the difference. Phil says: "Lucas felt 'seen' by his teacher, and that was what he needed. We felt we had struck gold."
One of the biggest concerns for parents, as Phil recalls, is language. "For our daughter, Holly, who was four at the time, it was a real worry," he says. "She said, 'I don't think I can do it. I don't think I can be in a class and only speak English.' My wife is Danish and although I'm Scottish and the 'at home' parent, Holly often spoke to me in Danish.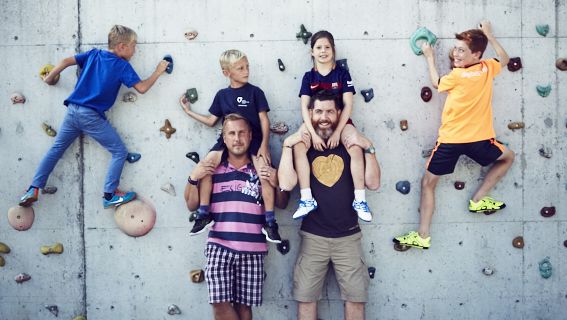 " Lucas felt 'seen' by his teacher, and that was what he needed. We felt we had struck gold."
"But staff at the Early Childhood Center (ECC) were such genuine, warm human beings she would come back every day overflowing with the things she'd done, and after six weeks she acknowledged she could do it. I told her, 'You're doing so well!' and she said, 'Yeah, but it's just because the teachers are supporting me so much.' She felt so secure."
"For about 50 per cent of our children, English is not their mother tongue," says Laurel Sutcliffe, Assistant Principal of the ECC. "And 10 per cent don't speak any English when they arrive. But we have a system in place. And we involve parents in our programme wherever we can, through parent cafés, curriculum sessions, guidance counsellors and a general open door policy."
In fact, for parents of ECC-age children, far from their family just when they need them most, school can be a lifeline. "Often expat parents of young children have no family nearby to help out or to ask for advice," says Laurel. "So we become the grandparents, the siblings. We can also help parents negotiate the educational and support system in their new country. We are often the first to identify a developmental need, for example, and we are able to make the link with the services the family will require and find someone who speaks their language to go with them."
For older children, the school's buddy system can play a vital role. By the time Renae landed in Switzerland, her daughters couldn't wait to get to school to meet the friends they'd already made online. "My eldest, Katri, nine, had had emails from her classmates asking, 'Which do you prefer, ice-skating or skiing?' She'd never done either! My middle daughter – Poppy, seven – had received bracelets and cards made by her classmates, and she had exchanged emails with her teacher. The girls were so impatient to start, we brought the date forward by a week."
Parents Niklas Lennartsson (with twins Alexander and Sebastian, Grade 4) and Phil Chisholm (with Lucas, Grade 5 and Holly, Grade 2) say the Parents' Association dads' group "is a bit tighter because there's fewer of us!"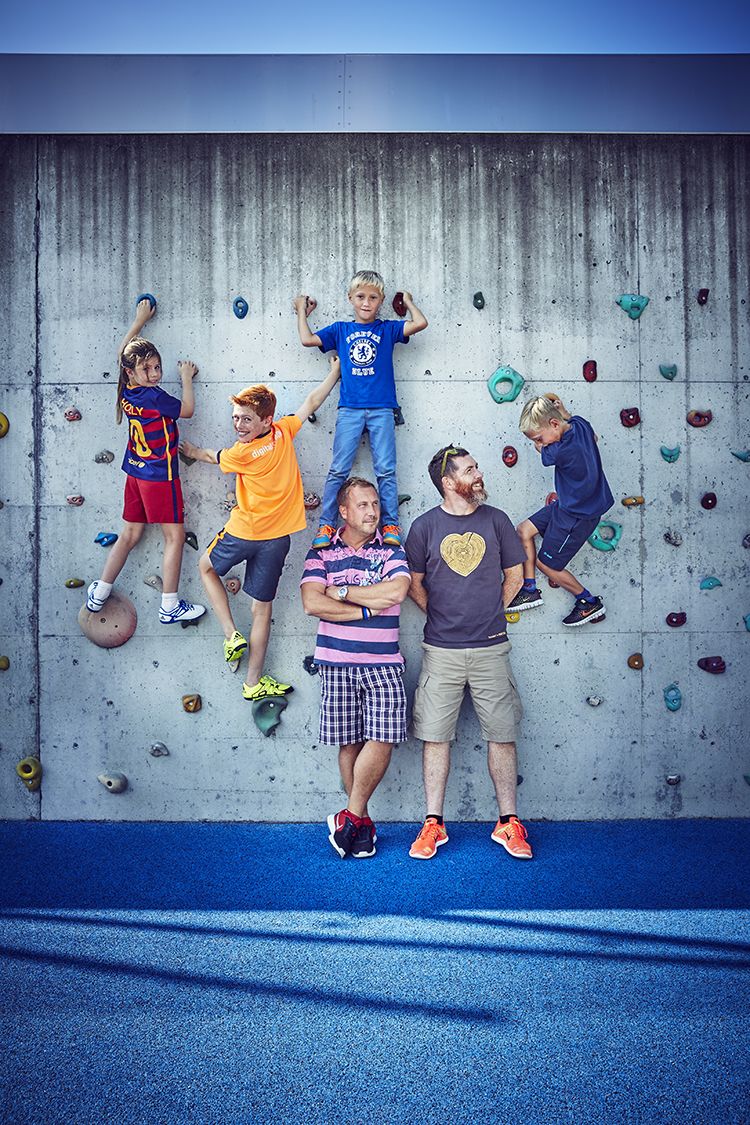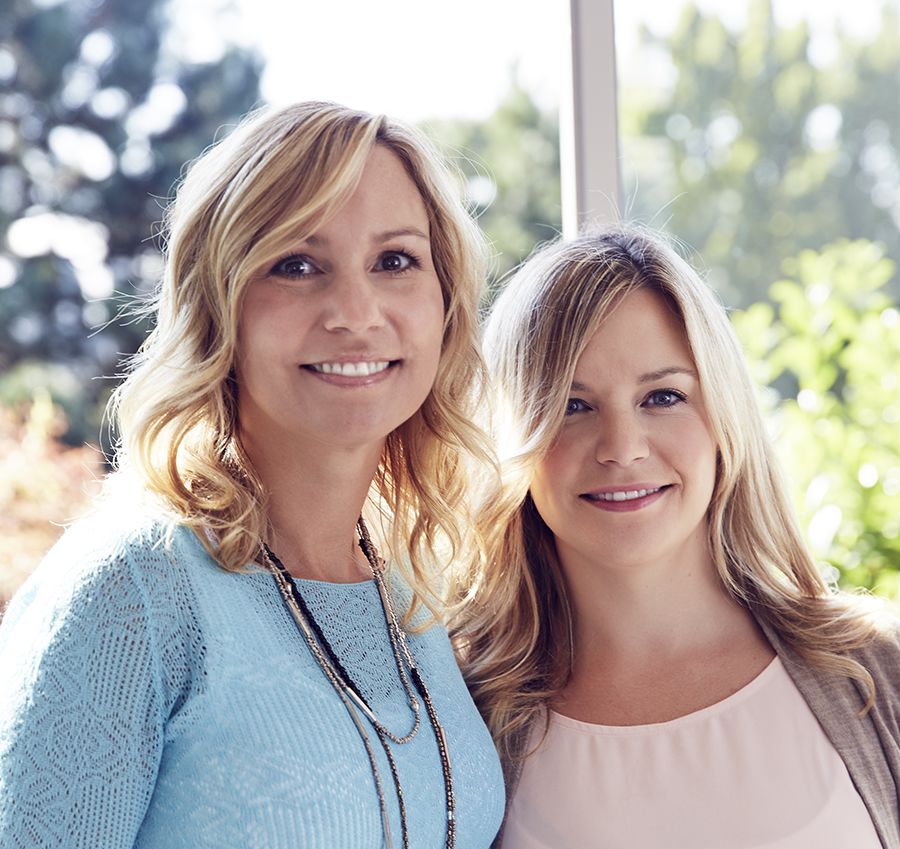 Nicole Ballard (top, mum of Griffin, Grade 9, Nori, Kindergarten and Jack, Pre-Kindergarten) and Cara Snyder (mum of Laela, Grade 1, Charlotte, Pre-School and baby Arianna) quickly grew close – close enough that Cara called Nicole at four in the morning when she went into labour with her third child, despite having only met a few weeks earlier! "I've never spent more than three years in one place, ever," says Cara, "so I've become a bit of an expert at this!"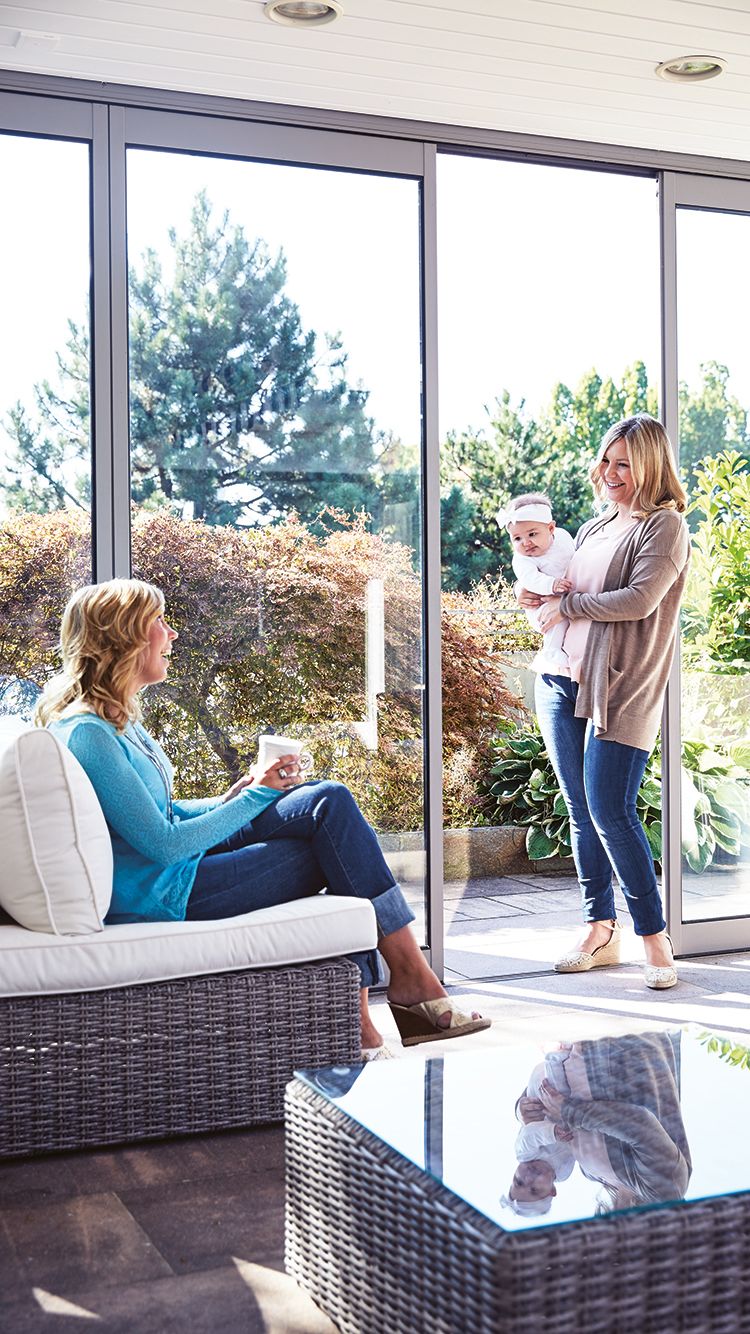 At the heart of it all is the ZIS community: and that means all faculty and staff, students and parents. "Go to that first welcome meeting at school," urges alumni parent Roswitha van den Berg. "It's absolutely crucial. Leave the boxes – they won't run away."
"You survive the 'culture bumps' with the help of your new friends."
She speaks from experience. Originally from Germany, Roswitha first came to Switzerland from South Korea in 1993. "At first I missed the disorder and happy noises of Asia. But now I appreciate the quiet here, the patient driving – it's safe, it's accountable. Everything is good quality, it's punctual. People leave you alone, they are showing you respect." Today she is a relocation agent and says that new parents shouldn't worry if they don't feel at home straight away. She describes the process of finding your feet not as culture shock – a one-off impact – but as a series of "culture bumps". "I say it takes four seasons, one year, until you find your comfort zone," she explains. "And you survive the culture bumps with the help of your new friends."
Alumni parent Nikki Morachnick agrees. "Meet the area reps from your home country. Attend the welcome gatherings, the lunches and the hikes. You can find out everything from what to do if your washing machine breaks down to places to visit in Switzerland."
She and her husband, Bill, had their fair share of challenges, such as the day they arrived 20 minutes early for a trip to the bank and were caught out by the lunchtime closing.
"It was January, the children were very cold, so we turned the engine on to keep warm. A man came and banged on the window and told us to turn it off. At the time I thought it was rude, but of course now I understand."
When Phil and his family arrived in July 2013 they hooked into the parent support network quite by chance. "The community here is very diverse, very open and warm," says Phil. "People don't have family here so they make friends quickly.
"I remember once we'd nipped to the badi at Horgen when a couple of guys heard me speaking English and we started talking. They were two ZIS parents – Lester and Neil – and we're now best friends," he says. "They helped me navigate the first week.
"For example, Holly was at one campus and Lucas another and without knowing the road between the two it was quite stressful. So even though we'd been given details of the route, Lester said: 'Don't follow those instructions, follow me instead.'"
Because as all new arrivals will attest, the problem of not knowing how to do everyday tasks can feel acute – especially when the rules can feel many and mysterious until you get to grips with them. "I got told off in the supermarket," remembers Renae. "I hadn't weighed my fruit and vegetables and the lady was very cross with me. I didn't understand what she was saying. She took one bag away to weigh it but then there were more underneath. My daughter kept saying: 'This is awkward!'"
Roswitha says the key is to accept the loss of control. "Observe – and ask for help," she says. "Don't be afraid of people thinking, 'She didn't do it right'. You're new. You can't expect to know everything yet. During that first phase a criticising eye blink can make you feel very upset. Instead, tell those around you that you're new and ask them to show you how to do the recycling, for example. They'll be only too pleased to help."
And then one day you no longer have a thousand new things in your head – you know the quickest routes, you can order a coffee and find the right change. You are at home. "You have to accept that the expat community is your family and let them help you," says Nikki. "Next time, you'll be the one stepping up."