Feast
It tastes good, yes, but for expats, a great meal can mean so much more – home, family and keeping a culture alive.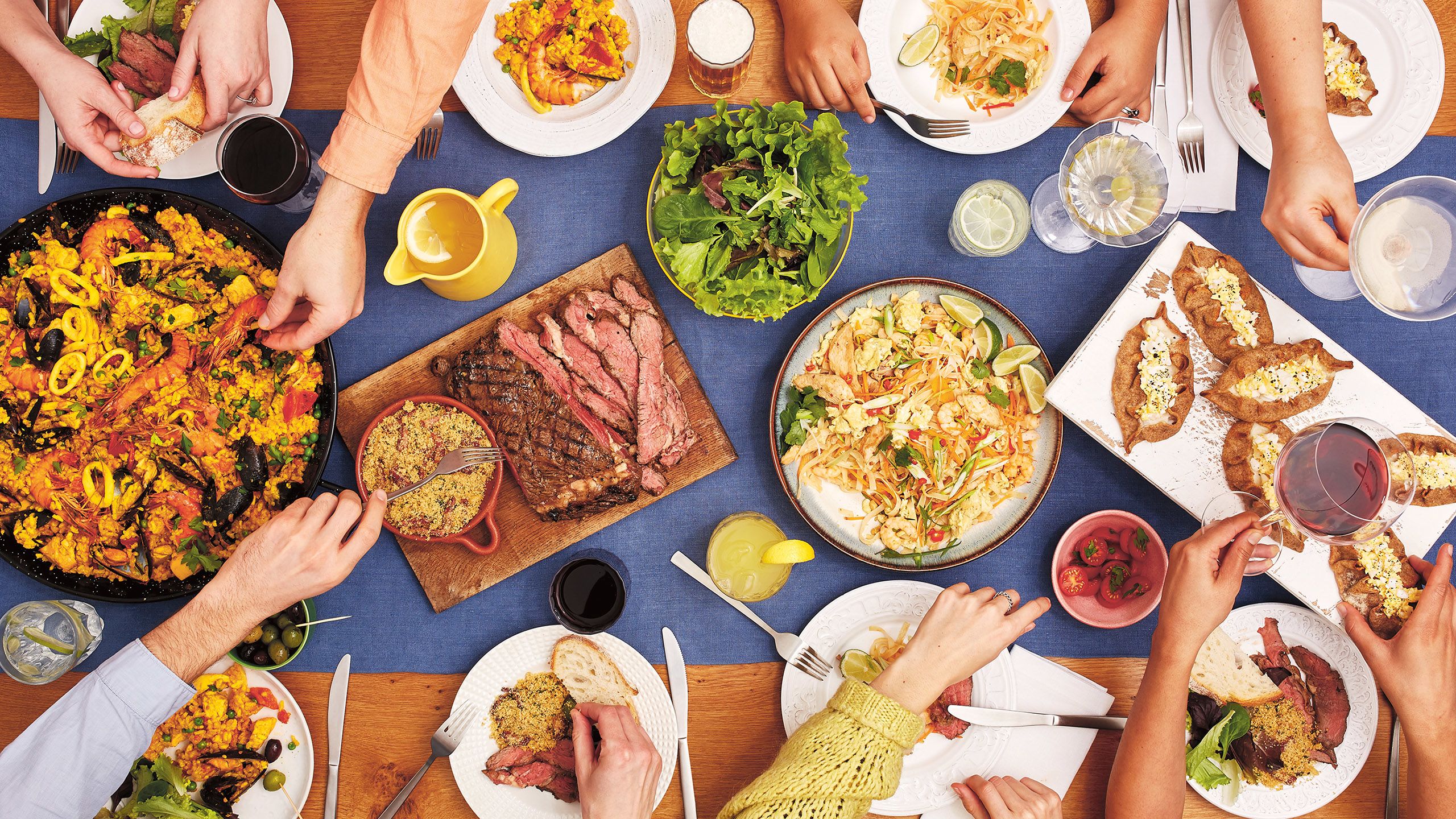 Rose's Pad Thai
Rose Bey, PA Representative for Asia Pacific Countries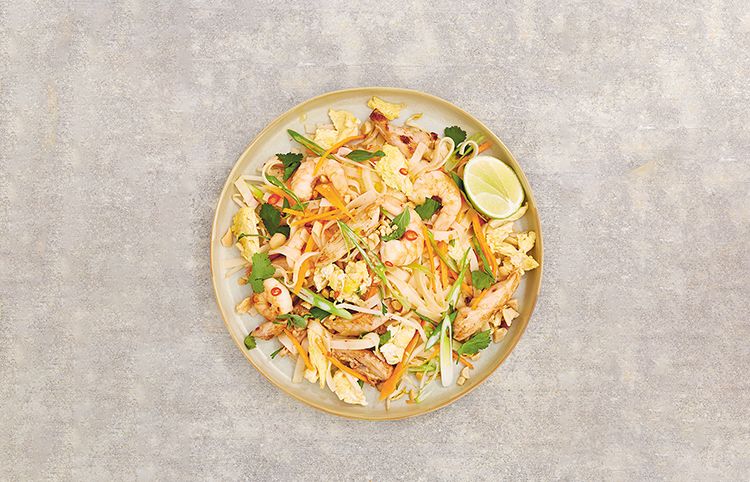 Asian cuisine is rich in flavour as well as variety, and is an important way to remind our children of our culture, of family cooking and helping one another. All of our dishes are prepared with pride and with quite a bit of thought to make sure we get the best flavours.
The preparation of the typical dishes we enjoy from places such as the Philippines, Malaysia, Indonesia, Thailand, Singapore and China are labour intensive and in many cases requires the help of the entire family. Things such as: bakwan (fried vegetable fritters from Indonesia); chicken curry and satay; a chicken and coconut soup called tom kha gai from Thailand; and Chinese dumplings.
The pad thai dish is based around rice noodles and marinated chicken. The noodles are soaked in warm water for at least 45 minutes to soften them, while chicken breasts or thighs are marinated in soy sauce, sugar and sesame seed oil.
To prepare other ingredients, peel and devein raw shrimp (with some added salt), and fry up some beaten eggs until firm then cut up into rectangular pieces. Drain the noodles once they are ready – they should still be a bit firm – and then it's time to cook!
In a non-stick wok, add the chicken to some sautéd cooking oil and crushed and minced garlic. Add some Thai paste (we get ours from the Asia Market in Zurich) and sauté until halfcooked. Throw in the shrimp and cook until slightly pink, then introduce half the noodles. Add a bit more Thai paste as per your preference and turn everything together.
Along with the eggs and remaining noodles, we then add some of our favourite ingredients for taste, such as fish sauce, half a lime, grated carrots, green onions, coriander, Thai basil and mungbean sprouts.
According to your taste – and don't forget to keep tasting! – you can add more Thai paste, lime or sambal oelek (spicy chilli paste) to enhance the flavour. If the noodles look uncooked or dry, add a bit of water and turn them, making sure you scrape off any noodles at the very bottom of the pan.
We serve ours in individual bowls with crushed peanuts, and the tastes are amazing!
---
What does home mean to you? The place you were born, of where you've spent the most time? The place your parents are from, or where your family is based now? Or is it something less tangible: a sight, a sound, a smell - or a taste? For many of us, home is less about physical location and more about family and friends coming together around... food.
"Home is no longer about geography for us," says current parent Rolla Choucair (mum to Julia, Grade 4, and Dany, Kindergarten). "Rather it's about flavours and fragrances, and moments we share with the community we build in our home away from home. "
Indeed, when you're in a new place, food is a way to meet people and an excuse to see them again. It's a way to recreate your old home in your new one and make the quirks of a new culture a bit easier to digest. Food is essentially social, and, for third-culture families, food is inextricably bound up with home. After all, home is where our relationship with food starts.
Rolla grew up in Beirut, and now takes a DIY approach to Lebanese culture. "In Beirut, the streets smell of za'atar (a herb and spice mix of oregano, thyme, sumac and sesame)," she says, "but in Switzerland they smell of croissants and fresh bread. So, I make our house smell of za'atar."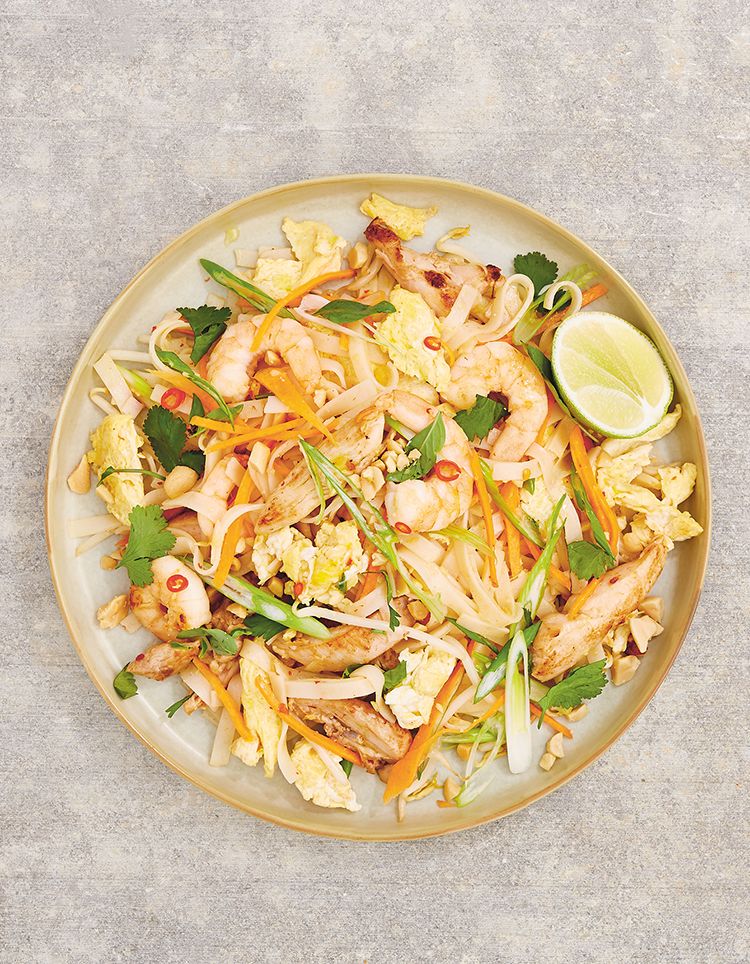 ---
Carolina's churrasco with farofa
Carolina and Romeo Lacerda, Current Parents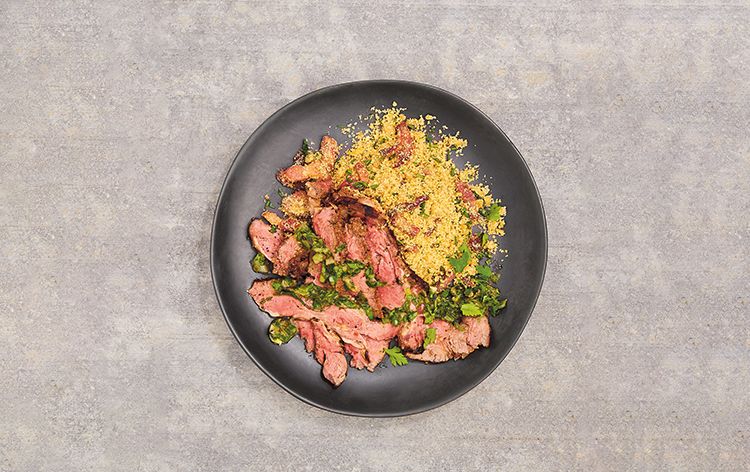 Churrasco to us is both a meal and an occasion. My husband, Romeo, and I both grew up in Brazil, and the churrasqueira – a purpose-built charcoal grill – has been a central part of our family lives, and a massive part of our culture. The tradition comes from the gauchos roasting meat on stone fires out in the fields, and it's something that is passed down across generations, often from fathers to sons. As well as being something that marks a special occasion, it's also a chance to get together with friends and family, so it's a really social event.
The actual cooking is quite simple, but it's all about the process and the traditions. We buy the meat the day before – the local butcher here in Switzerland knows Romeo by now and is always ready to give him the specific cuts of meat he wants. We usually go for rib-eye because it roasts so well in the churrasqueira, but in Brazil the picanha is really popular because the fat brings the best flavours out of the meat.
Depending on how we're serving it, we'll either cut the meat into slices or just leave it as it comes, and then slide a skewer or stick into it. The only preparation we do is to add plenty of gross salt, but otherwise it's just a case of getting the charcoal – always charcoal, never electric or gas! – just right. The fire is a big part of the process and we take lots of care and attention to prepare it carefully so that we get the best tastes. Serving is an ongoing thing – we'll take the meat off the fire and cut pieces for anyone that likes it rare, and then return the meat to the heat and keep roasting so that we get it just right for everyone's taste.
It can go on for quite a while. Alongside the meat we serve a Brazilian farofa, a manioc flour-based side dish. To make this, we fry some bacon, onion, garlic, salt and pepper in a pan, then add some butter and finally manioc or cassava flour (luckily, I have a favourite local Brazilian store that stocks this!). Stir continuously for three to four minutes, or until the flour is toasted to a light golden colour – make sure to constantly fold in the flour from the bottom of pan because it toasts quickly. Once it's nice and crispy, immediately transfer to a bowl, add chopped chives and mix well. Serve hot or at room temperature – it's a great accompaniment to the juices that come with the churrasco.
We've lived all around the world, but this simple taste of home always connects us back to our roots and brings back many great memories, as well as keeping alive the new connections that we have made in our home away from home.
---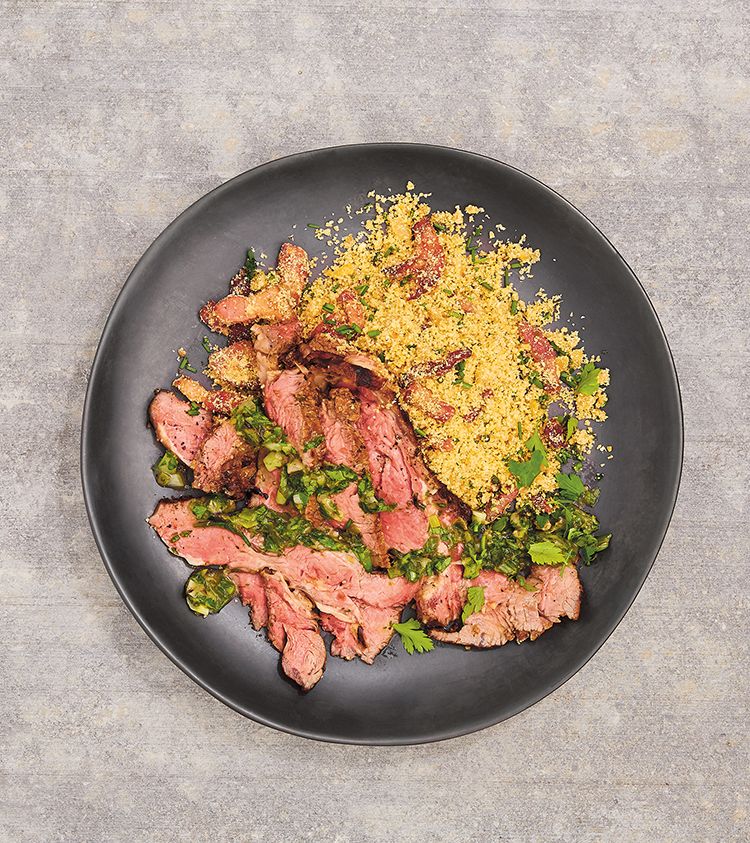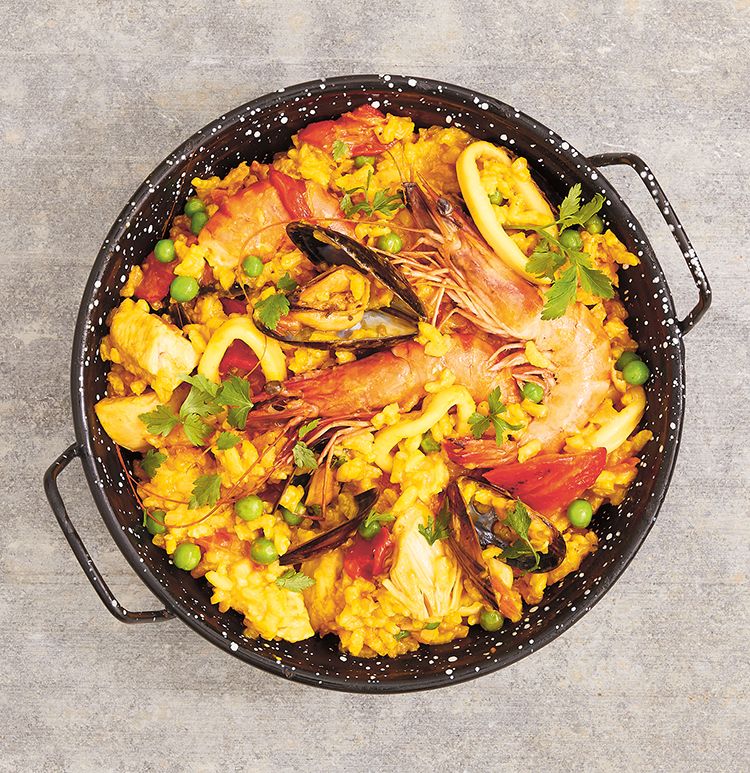 This brings back fond childhood memories. "I remember going to my grandmother's house for what you would probably see as a feast," she says, "but for us, it was business as usual.
We love you, we feed you – this is how it works! Families meet at midday on a Sunday for mezze and don't go home until the evening. Mezze is lots of different appetisers, cold and hot. The main might be grilled meat or fish or shawarma – chicken, beef or lamb marinated overnight in garlic, onion, sage, cinnamon, cardamom, nutmeg and sumac (a sour, red spice) and fattoush (a type of salad)."
At home, Rolla cooks more simply – "comfort food like lentil soup or a stew" – but whatever they eat, she says, there will always be hummus. "I make it the Lebanese way, with chickpeas, salt, lemon, garlic, tahini paste and olive oil. There's always hummus, pitta and cut-up veggies on the table."
Food writer and presenter Claire Matern, Class of 2008 (1997-2000), grew up in Brooklyn in the US, and Switzerland, and says food has always been a "driving force" in her life. Her dad, now a cheesemonger in New York, is a classically trained chef who ran the food hall of Zurich's Jelmoli department store. "Food was always important at home – we cooked and ate together," says Claire. "Holidays meant poring over menus and spending hours at markets. It was, and still is, the fabric of our family life."
During her time at ZIS, Claire's dad would get home from work and start cooking straight away. "He finished early on a Saturday, so Saturday night dinners were special," she says. "I remember roast chicken with potatoes and vegetables – classic comfort food that filled the house with its smell. Zurich can have gloomy, rainy days, but being at home with the fire on and a chicken roasting was cosy and warm."
Although Claire had her assigned tasks, like making the vinaigrette, or setting the table, she didn't learn to cook until she had to – at the London College of Fashion in the UK.
"I'd have Skype calls with my dad from my kitchen or even from the supermarket. I'd say, 'Courgette is on special offer, what can I do with it?' That's the way I teach cooking – you don't need a recipe. You need to learn what you like, learn some techniques, and then you need to trust yourself."
Sonsoles' Paella
Sonsoles Delgado Roca, PA Representative for Spanish-Speaking Countries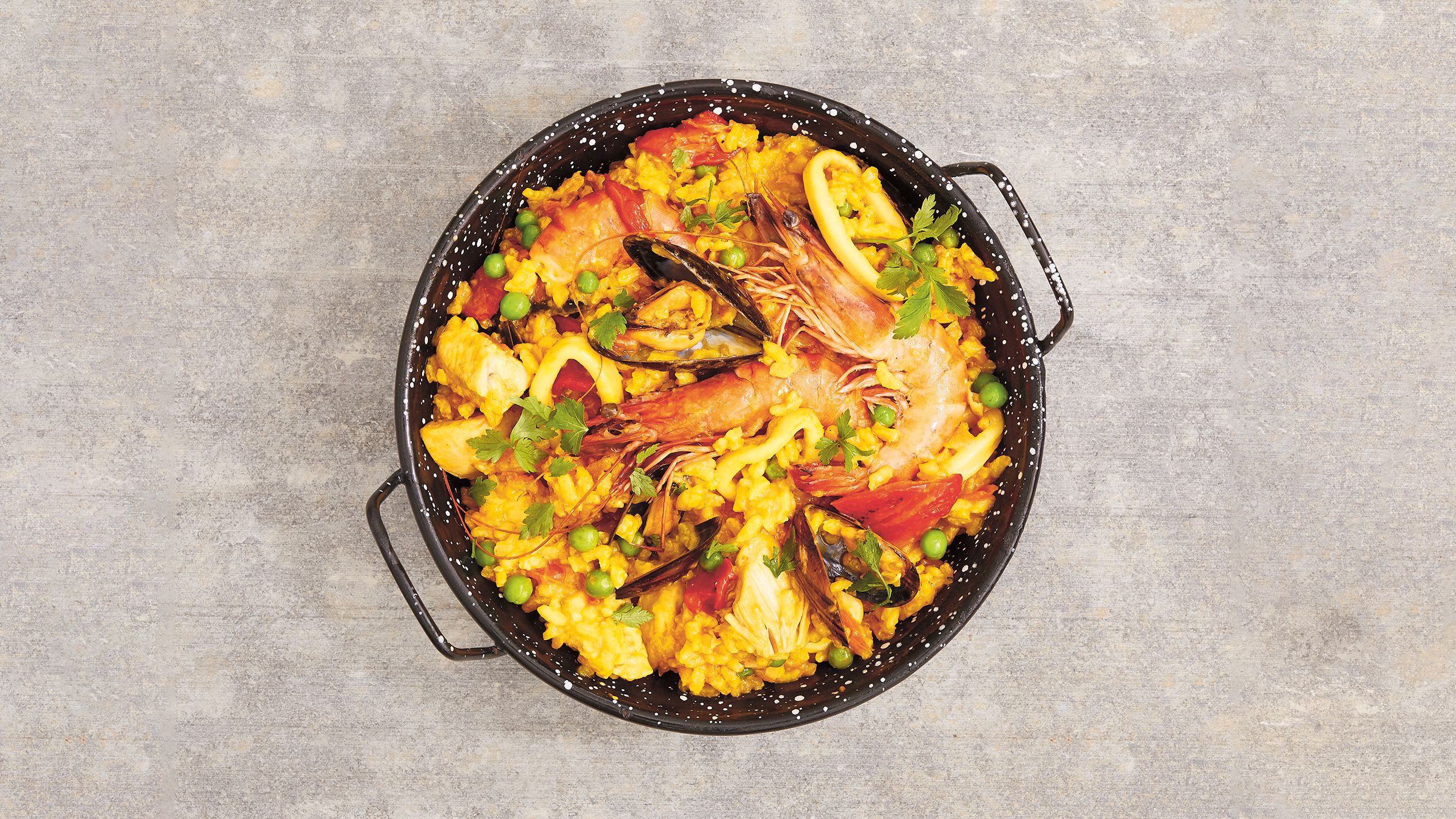 Originally from Valencia, paella has become one of the best-known dishes in Spanish cuisine. The dish takes its name from the wide, shallow traditional pan used in its cooking – paella means "frying pan" in Valencian.
There are two main versions: paella valenciana, the traditional and original recipe which uses meat (rabbit, chicken and occasionally duck or snails) alongside rice and green beans; and paella de marisco, which replaces meat with seafood and leaves out beans and vegetables.
For my version, I use a mix: boneless skinless chicken thigh fillets cut into bite-sized pieces along with calamari, mussels and shrimp. After heating oil in a large non-stick pan or wellseasoned skillet (or paella pan if you have one), fry onion, garlic and capsicum together and cook until the onion is transparent.
Sauté the chicken until golden on all sides, and add some chopped tomatoes, salt and pepper to taste. Cook until the tomatoes begin to create a lovely sauce. Add some mussels (optional) and calamari rings. Allow to cook for a short time (five minutes or so) then pour in medium-grain or arborio rice, peas and saffron (powder or threads). Mix everything together until well combined.
After adding some low-sodium chicken broth or stock (or homemade fish stock), bring to the boil. Reduce the heat and allow most of the liquid to absorb into the rice, while stirring occasionally to prevent the rice from sticking and burning to the pan underneath – my tip is to cook it all until the rice is almost completely cooked through. Finally add the prawns, mixing them through the rice, and allow the prawns and rice to cook completely. Once cooked, remove it from the heat (we place strips of capsicum, fire-roasted bell peppers, over the top for enhanced flavour) and cover it – we use newspaper – for 10 minutes. Then serve and enjoy!
---
Claire is now back in New York, but admits that "food reminds you of home, then it reminds you of your second home". So, she now cooks Älplermagronen (Swiss mac and cheese) for American friends, and recently hosted a workshop where ZIS alumni made rösti and Bircher muesli together.
Julia Newton, mum to Matthew, Class of 2002 (1992-2002), and Laura, Class of 2004 (1992-2004), moved to Switzerland from the UK with her husband Richard and just "one carload of stuff". There was no room for recipe books so, pre-internet, Julia found herself ringing friends in England for birthday cake recipes. "We've always celebrated traditions," she says, "but it was difficult at first in Switzerland – you couldn't get turkey, so at Christmas we cooked a goose. It was not a success!"
Julia and her family have embraced internationalism – taking Japanese cookery courses and experimenting with Greek and Asian foods. But, she says: "I tend to revert to home cooking when it's for the family – traditional, British meals like shepherd's pie, a roast dinner, pastry and crumble. That's what I grew up with and it's my comfort food." The Newton's favourite family dinner is pancakes on Shrove Tuesday. "Richard will be standing by the hob making pancake after pancake and we get out everything that we wouldn't normally have: chocolate chips, lemon, cinnamon, maple syrup. It's always great fun."
Julia's daughter Laura is now a keen cook – "She has Ottolenghi recipe books rather than Richard's favourite, Delia Smith" – and she learned at home. "We used to watch Ready, Steady Cook, presented by Fern Britton. Aged six, Laura would be walking round the kitchen saying, 'I'm just putting this in the oven now, Fern'!"
Julia contributed to the cookbooks produced by the Parents' Association at the International Primary School of Zurich, before it merged with the American International School of Zurich in 2001 to form ZIS, and says initiatives like this were a social lifeline. "Parent Sheila Creswick was the editor and we all contributed recipes. We contributed our pancake recipe, of course, and Laura's raspberry crumble is in there. I used to make the sweet and sour pork a lot, and still make administrator Marilyn Dewji's risotto.
"Food was a way to talk to people from different backgrounds – swapping recipes, for example – and because there weren't really any communal areas to meet at the Villa, we'd have coffee mornings at each other's houses, where you'd bring your signature cakes and biscuits."
Julia was around for the first-ever WorldFest, the cultural showcase that is now one of the biggest events in the school calendar. She says: "It was started by a parent, Mirja Pesola, who is Finnish – I'm still in contact with her on Facebook. It began in the primary school, which was rather small, and quickly moved to the Upper School. If you ask a community to represent itself, food will be top of the list. It's a way of celebrating and embracing different cultures. People are proud of their dishes."
Current parent Katy Cool (Will, Grade 1, Jack, Grade 4, and Grace, Grade 8), together with her friend Jenny Wismer, an alumni parent, took charge of WorldFest twice. Katy says that, this year, she enjoyed actually tasting the food rather than "running around after the custodian staff because the power's just gone out" or, as happened one year, "chasing a tent that had blown away in the storm". It's a lot of work, she says, but worth it for the smiles on everyone's faces. "Food is something we all have in common, so it's an easy, simple way for us all to enjoy one another, and feel that sense of community."
Katy's children have all grown up in Switzerland, but she and her husband are both from Georgia, in the southern United States. "So that's fried chicken, Tex-Mex, barbecue ribs, fried okra and, mostly, cooking out, because where we come from, winter is just a cold snap," she explains. Katy says sometimes cooking is just about getting through the week and preparing quick new family favourites such as spaghetti bolognese.
On summer weekends, however, they get their grill on. "We grill veg – zucchini and corn on the cob – and I make potato salad and grape salad. That recipe came from an old neighbour, I think, but now everyone asks me to make it for dessert. Then it's ribs, steak and freshly made hamburgers. We play corn hole, where you throw bean bags – traditionally, bags of corn – through two holes."
Another tradition that is maintained among American families is Thanksgiving. "There's about 30 of us in my social group and we take it in turns to host. We take a divide-and-conquer approach to the turkeys, running them around people's ovens, as we need quite a few!" says Katy.
Rolla says she, too, loves the way food can create an instant, positive connection. "When I say I'm from Lebanon, I love that people say, 'Oh, I love Lebanese food', rather than 'I'm sorry about the war'! We have lived in different places and things are always changing, like recipes. I'm always adding something new and nice, to make it more flavoursome. We are Lebanese, but no longer only Lebanese. I love it when the kids come home and say it smells good, whether I'm cooking za'atar or lasagne. My daughter was saying the other day, 'I am 25 per cent Lebanese, 25 per cent American and 50 per cent Swiss.' If we go and live in Timbuktu, that equation will change again. But as long as some percentage is Lebanese, I am completely happy with that."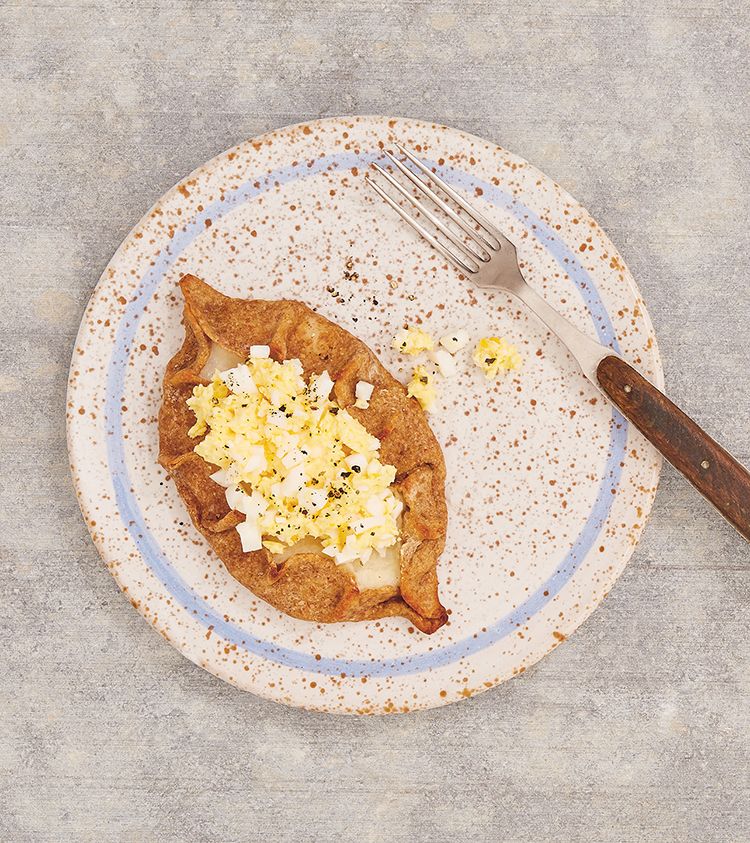 Maija's traditional Karelian Pasty
Maija Hiedanniemi, PA Representative for Finland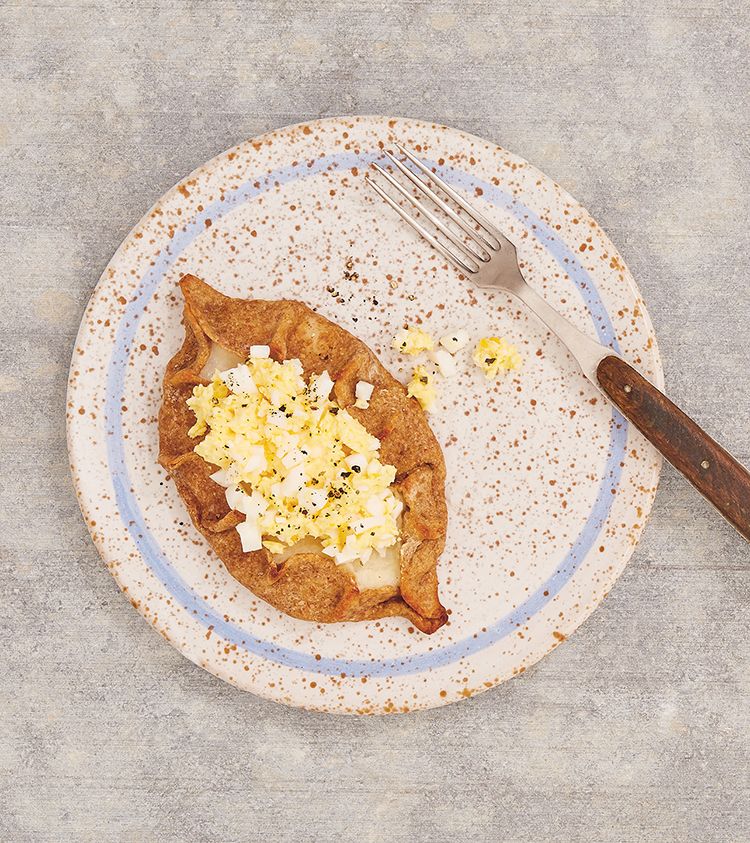 There are, of course, many traditional Finnish foods, but I think that the most traditional Finnish speciality is the Karelian pasty. Known locally as Karjalanpiirakka, these pasties, or pies, originated in the eastern province of Karelia, the mythical birthplace of Kalevala, the epic 19th-century poem that has become an essential part of the Finnish national identity. The crust was traditionally made with rye flour and filled with potatoes, rice or carrots.
For my recipe, I start making the rice filling by adding porridge rice to a pan of boiling water, simmering until the water is absorbed. Add milk, bring the mixture to the boil and let it cook for just a couple of minutes, stirring continually. Reduce heat to the minimum – or turn it off completely – cover the pan with a lid and let the mixture simmer for about 30-40 minutes, stirring every now and then. You'll know the filling is ready when it has thickened into a velvety, white porridge.
Mix in a knob of butter, then cover the pan again and set aside to cool. Finally, add an egg and season with salt. The filling mustn't be too runny – it should hold its shape when spread on pie disks. To prepare the pasty dough, add oil and water, a little at a time, to a mixture of flour and salt to get a non-sticky dough. Divide this into 15-20 equal pieces and roll them into small balls.
With a tapered rolling pin, roll out the balls into very thin disks – about 1mm thick and 10-15cm in diameter – then cover the disks lightly with plastic wrap to prevent them drying out.
You're now ready to spread the filling on to the centre of the pie disks. Remove the plastic and raise the edges of the disks towards the centre, pinching with your fingers to make an oval ridge – the centre will be open. Place the pasties on a baking tray covered with parchment paper and bake for about five minutes, or until the pasties start to turn darkish-brown.
Meanwhile, heat some whole milk with melted butter in a saucepan. Dip the hot pasties into the hot milk and butter mixture and place them in large bowl. Cover the bowl tightly with something like parchment paper and a towel, and let the pasties soften for about half an hour.
The warm pasties are traditionally served with an egg and butter spread (made by mashing warm boiled eggs with butter and a little seasoning), but they are also often topped with plain butter, cheese, ham, reindeer slices, gravlax or shrimps – or whatever you happen to like!
---